Advanced Data Completes Verification of Income and Employment Integration with Equifax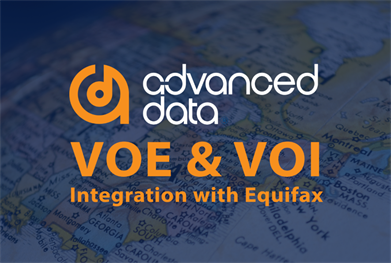 MILFORD, PA—June 13, 2019-- Given the growth of digital mortgages, lenders now face the challenge of creating a seamless and timely experience for customers without sacrificing the integrity of the verification process.

Advanced Data, provider of a single-source solution for verifications nationwide, has partnered with Equifax for its final step in their full-service verifications platform. This not only offers business agility and an unparalleled customer experience; it also provides precise insights and smart decisioning for mortgage lenders.

"We are excited to complete this step in our single-source strategy for 100% of verifications. Equifax instant Verifications of Employment and Income through its The Work Number® database, are now integrated in our technology across platforms," said Allen Johnson, CEO of Advanced Data. "Differentiated data assets from Equifax, coupled with Advanced Data's smart-decisioning software, provide lenders with an agile, multi- disciplinary resource for seamlessly navigating the digital mortgage landscape."

"We are pleased to expand our alliance with Advanced Data in a way that will help mortgage lenders complete loan originations more efficiently and deliver a better consumer experience," said Tom Ciulla, Enterprise Alliances Vice President at Equifax. "Verification services from The Work Number are an important component of the new digital mortgage environment."
Equifax manages the nation's largest centralized repository of income and employment verifications, through The Work Number, its proprietary database containing more than 350 million payroll records.
About Advanced Data
Advanced Data is recognized as the standard for enterprise-wide mortgage data integrity, specializing in fraud prevention and enhanced verifications. Its proprietary technology is integrated with loan origination systems, and the firm offers a SaaS platform for clients that prefer a custom solution. Its services include eSign 4506-C, streamlined verifications and re- verifications of employment, verification of assets, fraud reports, multiple levels of social security number verifications, AVM plus property inspection, and flood zone determinations. Advanced Data's proprietary Fraud Report identifies each loan's fraud risk before and after funding. The firm prides itself on delivering superb customer service, hiring experienced employees, and developing customized, sophisticated technology. It's one of the only firms in its sector to employ an in-house development group, which ensures its technology provides a competitive advantage to clients and can be customized to their needs. For more information, visit AdvancedData.com.
About Equifax Inc.
Equifax is a global data, analytics, and technology company and believes knowledge drives progress. The Company blends unique data, analytics, and technology with a passion for serving customers globally, to create insights that power decisions to move people forward. Headquartered in Atlanta, Equifax operates or has investments in 24 countries in North America, Central and South America, Europe and the Asia Pacific region. It is a member of Standard & Poor's (S&P) 500® Index, and its common stock is traded on the New York Stock Exchange (NYSE) under the symbol EFX. Equifax employs approximately 11,000 employees worldwide. For more information, visit Equifax.com and follow the company's news on Twitter and LinkedIn.

Sources:
*https://www.corelogic.com/insights/mortgage-fraud-trends-report.aspx